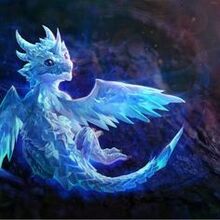 Ice dragons are the most harmless things there are... unless you get caught in their deadly ice breath. These dragons love playing in the snow and love being silly, even as adult dragons they can be silly and fun at times! Other times it's their protecting the young from doing something that could hurt them.
They have a few weaknesses, i.e. Summer time, fire, heat in general, even though they are ice and ice is frozen water, warm water some what affects them. They live in the tundra to Antarctica region so no humans can interfere with them.
Come in icy colors like silver and light blue, and can eat what they can catch in the arctic.
Members
Ad blocker interference detected!
Wikia is a free-to-use site that makes money from advertising. We have a modified experience for viewers using ad blockers

Wikia is not accessible if you've made further modifications. Remove the custom ad blocker rule(s) and the page will load as expected.